Vikings in the Community: Supporting Animal Humane…
3 min read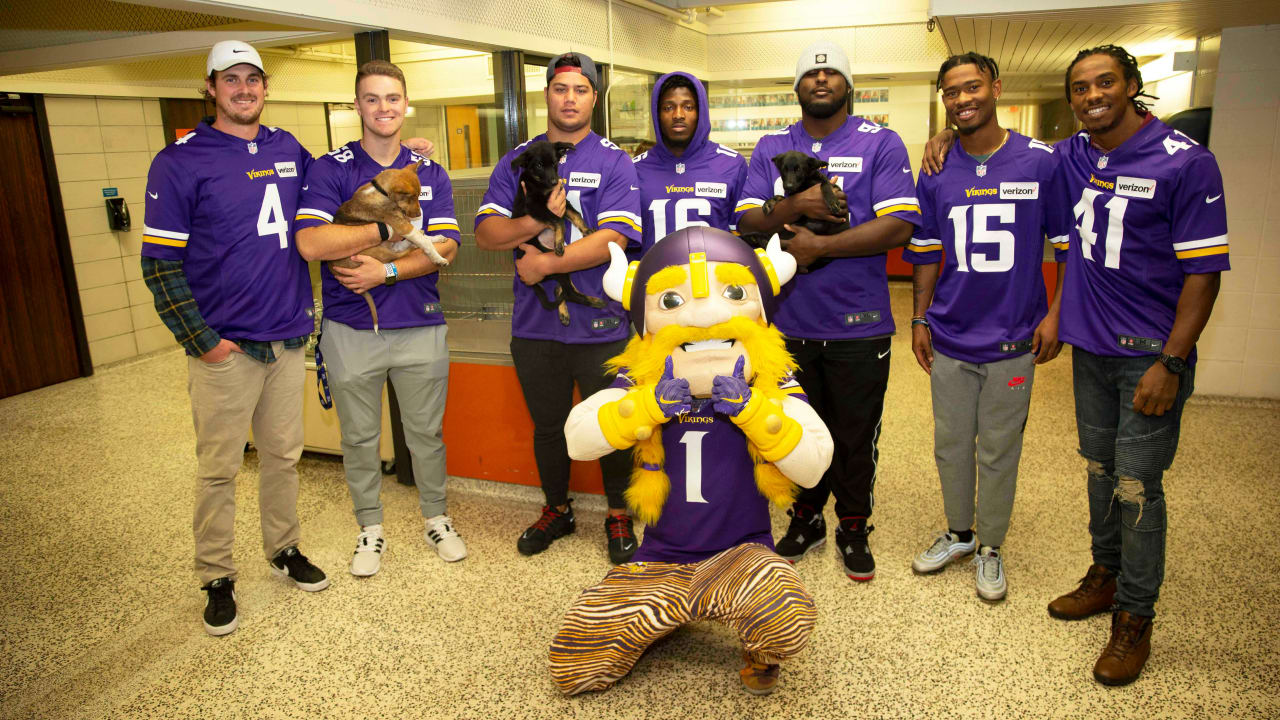 GOLDEN VALLEY, Minn. — It was a year ago when Anthony Harris showed up to the Animal Humane Society to support a good cause and raise awareness for pet adoption.
But after the event, the Vikings safety couldn't resist getting a pair of his own pets. His attempt to adopt one cat eventually led to two coming home with him.
Harris and his Vikings teammates were back at AHS last week for another adoption event, as the Vikings donated $25 to the animal shelter for every adoption online and in person.
Harris, perfectly fine with Ella and Cookie (and their Instagram account, hooscoolcats, laughed when he said he was good on adopting this time around. Ella is a Tabby, and Cookie is a Siamese.
"It wasn't really in my plan [last year]," Harris said with a smile. "I like dogs a lot, but with my schedule I didn't really think that would be the best thing since I like to travel.
"But I did some research on it and came here for the event," Harris said. "It was around Thanksgiving and I was in the holiday spirit, so I was thinking I needed to add somebody to the family. Now I have two at home and they're great … I actually find myself coming home and looking forward to them coming running to the door greeting me."
Tuesday's event gave others the chance to adopt a pet of their own, and for Vikings players to interact with some furry friends.
"I think I might be having more fun than [some kids here] because I'm hanging out with all these animals," said Vikings long snapper Austin Cutting. "It's fun to be here and makes me happy that we're here."
Besides Harris and Cutting, Alexander Hollins, Davion Davis, Jaleel Johnson, Hercules Mata'afa and Sean Mannion also showed up to support AHS.
The event coincided with National Animal Shelter Week.
Breanna Willman, the Corporate Partnership Manager for AHS, said the shelter simply couldn't function without help from organizations such as the Vikings.
"We rely solely on donations and corporate partnerships like this one with the Vikings," Willman said. "We don't receive any government funding, so we really wouldn't be here without support from organizations like the Vikings.
"We have an animal for every lifestyle, whether you're a couch potato, whether you like to run," Willman. "There's a good fit for everybody."
That included Tammy Kuglin, who took home a 7-month old Shepherd mix that she was going to name Oakley.
Kuglin said she wanted a new pet now that her daughter and her daughter's dog have moved out of the house.
"I'd been missing a dog, and the time was just right," Kuglin said. "We're in love already. We already know she's going to be a Vikings fan."
It's a feeling that Harris knows well.
"I always try to get out and give back," Harris said. "I think it's important to be active with stuff I care about, and for me, animals are one of those things.
"Coming here and trying to find homes for these animals — they're all great pets — is something I really care about," Harris added.

https://www.vikings.com/news/vikings-in-the-community-supporting-minnesota-animal-humane-society