Kyle Rudolph Announced as Vikings 2019 Walter…
6 min read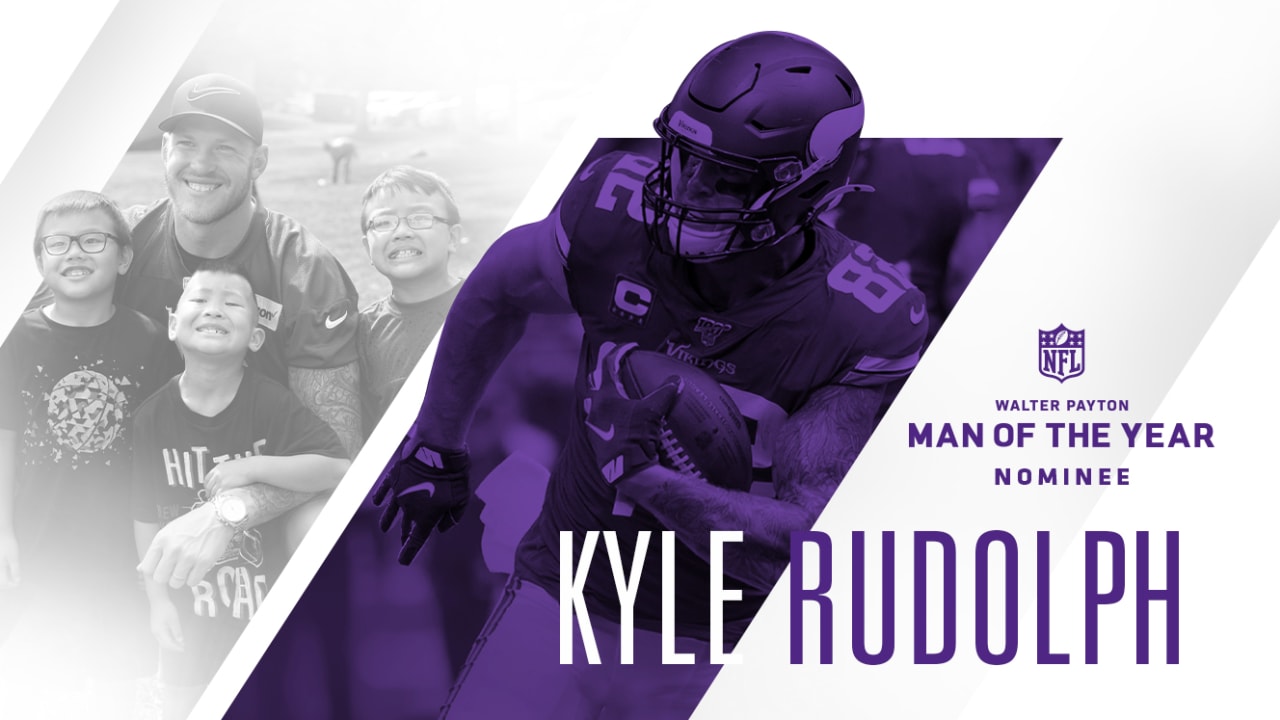 Most may be familiar with his longstanding commitment to the hospital, where he envisioned and opened the 10,000-square-foot End Zone.
What may be lesser-known, however, is the multitude other ways in which Kyle has made a difference over the years.
From his consistent commitment to the Muscular Dystrophy Association Muscle Team and the Kelly Cares Foundation, to hosting a youth football camp on a U.S. Army base in Germany and meeting with Gold Star Families, there is one common thread:
Vikings Director of Social Impact Brett Taber was on-hand to announce Kyle as the nominee for the third consecutive year.
"Today, we get to honor and recognize not just a player, but a man who's meant so much to our community, [along with] his family, from the time he first got here," Taber said.
He emphasized Kyle's never-ending commitment to the Minnesota community and, in turn, what he means to so many across the state and even beyond.
"That's because of the heart that Kyle has – not just for his teammates and for his coaches but for the individuals in this community," Taber said. "The patients here at this hospital, the individuals that he meets, the fans that he spends time with after a game, and all the other countless people he sees – whether it is on the road, back in his hometown community, Elder High School, he has truly touched the lives of more people than you could ever possibly imagine.
"I am humbled and honored, on behalf of the Wilf family and the Minnesota Vikings organization, to officially announce that Kyle Rudolph is our 2019 Walter Payton NFL Man of the Year," Taber later added. "We wish Kyle the best of luck and know that there's nobody more deserving in the NFL than Kyle for this award, and we hope to see him accepting this award at the NFL Honors."
Kyle called the nomination "extremely humbling" for both him and Jordan.
"We're extremely honored to represent the Vikings," Kyle said. "I know the quality of men that we have, and there's so many great nominees in our locker room. People who are just as deserving of this honor as we are. We're excited.
"Hopefully someone will be accepting this award on our behalf because we're getting ready for a Super Bowl in Miami," he added with a smile. "But it would be an incredible honor, and we're very humbled to be nominated."
In nominating Kyle for the Walter Payton Man of the Year Award, the Vikings fielded numerous testimonies from those who have seen first-hand the lives that have been inspired, impacted or improved by the Kyle's charitable efforts.
Below is a selection of those statements.
Andrew Zimmern | Celebrity chef & TV host:
"I've been inspired watching him talk to parents of sick youngsters long after everyone else has left the room, cameras included. I know Kyle's younger brother is a childhood cancer survivor, and because of that family trauma, Kyle is talking from experience; he's not just showing up to hand out a jersey or smile for a camera. He is devoted to helping Minnesota families. This kind of advocacy and commitment is vital to our state and its people. Without leaders in the community, selfless inspiring leaders, contributing for the greater good, who are we? Without those for whom much has been given stepping up for those whom too much has been asked, who are we?"
Matt Birk | Super Bowl Champion & 2011 Walter Payton NFL Man of the Year:
"When I came to the Vikings 20-plus years ago, there was a tradition of guys being involved in the community. I look at how Kyle has continued that and really tried to help take it to another level. I think for someone like me, it was easy, because I'm from here. I live here. Kyle's not from here, but he's here right now, and he's doing good and doing as much good as he possibly can, kind of going above and beyond what might be expected of guys. I'm proud that he's a Minnesota Viking, I'm proud that he's in this community right now. I hope he's here for a lot longer because he's definitely somebody that, absent of what he does on the football field, for my kids, I can point to him and say, 'Be like this guy. Don't be like him the football player, but be like this guy the man.' "
Mike Golic | ESPN Personality & former Notre Dame teammate of Kyle's
"Over the course of my friendship with Kyle, I've always noticed that where he's from plays a huge part in why he was drawn to give back. Going back to Cincinnati with him on a number of occasions, I was always struck by how close-knit the whole area was. Kyle and his family had such a big presence in that community, one that they took a great deal of pride in. The desire to give back and contribute always seemed like such a natural part of being there. Couple that with the spirit of service that is such a big part of the mission at Notre Dame, and it was no surprise at all that when Kyle got to the NFL he was going to make a major impact on whatever community he ended up in."
Dave Benson | Executive VP of the American Cancer Society North Region:
"Oh my gosh. Kyle Rudolph is amazing. If I could vote, I would vote a hundred times for him for Community Man of the Year. He's so passionate about what he does, and he really, genuinely cares about what he's doing. You can tell that each of those individuals that he's helped, he is deeply committed to that person. It's more than a cause for him; it's deeply personal. I wish more people could see that that's a part of what makes up Kyle Rudolph – that he really, deeply cares about the people behind the work that he's doing."
Chad Greenway | Former Vikings LB & teammate of Kyle's:
"I think the biggest thing, now that I'm out of football and moved into retirement, I notice the opportunity to impact the community probably greater now than when I played. So to give some perspective on what Kyle's been able to do, it's probably easier for me to see from this side of playing rather than when I actually played. The best part about Kyle is that when he does an event, he's always there. He's very present. He's about the families, about the children, and he has absolutely no ego and will spend as much time as it takes for that family, that child to have the best experience possible. I really feel proud to have kind of started Kyle's philanthropic work [in Minnesota], or at least given him some motivation. He's always been so gracious; when we were teammates, he always gave his time to my charity, was always so great to be involved with other people's charities, and did his own stuff. Now when I'm retired and still doing these events, he always finds a way to impact our event."
https://www.vikings.com/news/vikings-kyle-rudolph-announced-2019-walter-payton-nfl-man-of-the-year-nominee