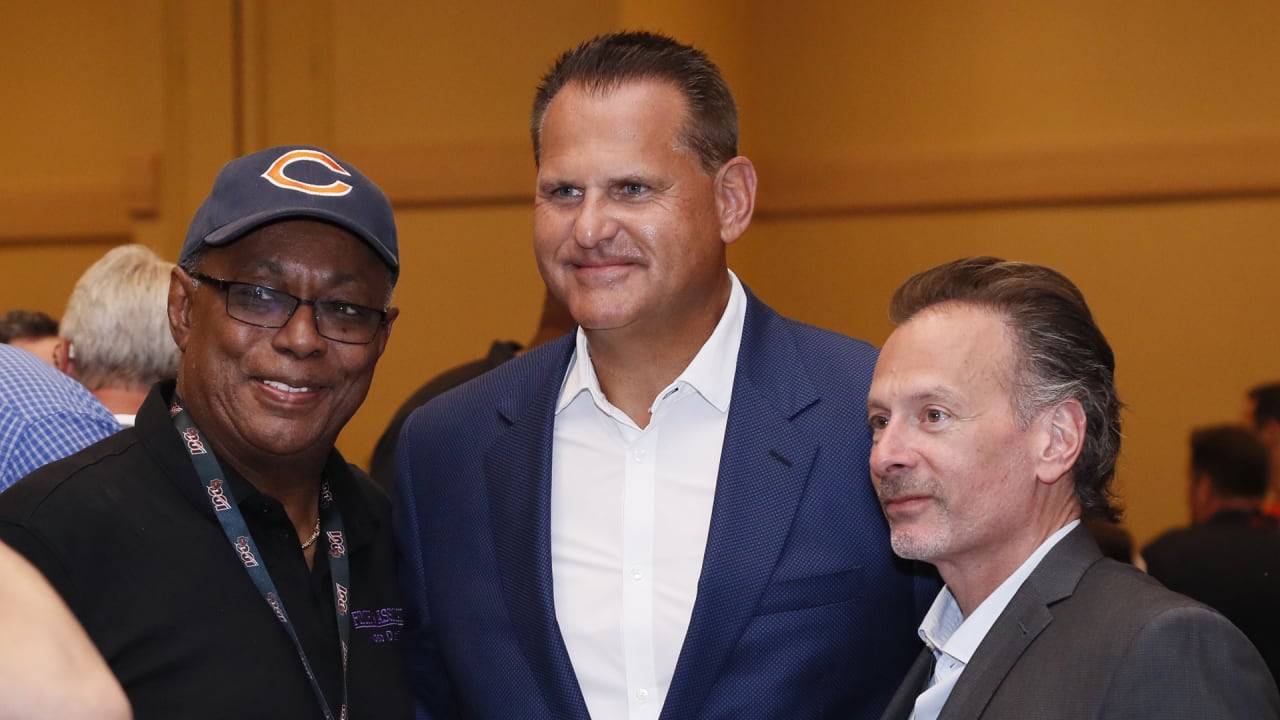 Covert played his entire nine-year NFL career with the Bears from 1983-91 after being selected with the sixth pick in the first round of the 1983 draft. He was a two-time first-team All-Pro who helped the Bears win six division championships, one conference title and one Super Bowl during his nine seasons.
Covert was part of a stellar offensive line that helped the Bears lead the NFL in rushing for four consecutive seasons from 1983-86. From 1985 through 1991, he was joined in the starting lineup by left guard Mark Bortz, center Jay Hilgenberg, right guard Tom Thayer and right tackle Keith Van Horne.
Covert also credited Bears defensive linemen such as Richard Dent, Dan Hampton, Steve McMichael, Mike Hartenstine and Jim Osborne with helping him hone his skills in practice.
"The guys that I played with on that offensive line, we're all really close," Covert said. "We're like a family within a family. These guys mean so much to me, my teammates and the guys I played against and practiced against every day in Lake Forest."
Covert also owes a debt of gratitude to his position coach with the Bears, Dick Stanfel, a Hall of Fame offensive lineman himself who passed away in 2015 at the age of 87.
"Dick Stanfel was such a great coach and he was a better person," Covert said. "He played in the league and understood what it took to prepare and do things the right way and go to work with a professional attitude. You just respected the hell out of him because of how he played the game and what he was as a coach and a person. He meant the world to me."
Covert waited more than 20 years to be voted into the Hall of Fame. He feels that he was hurt by a lack of longevity—a chronic back injury forced him to retire following nine NFL seasons. But Hall of Fame voters eventually gained a greater appreciation for stars who played less than a decade. For instance, Seahawks safety Kenny Easley and Broncos running back Terrell Davis were both enshrined after playing just seven NFL seasons.
Hall of Fame voters Rick Gosselin and Dan Pompei were among those who championed Covert's cause. In May, Gosselin wrote that Covert was one of seven senior candidates who should be enshrined in Canton. Pompei, a longtime Chicago-based pro football writer, presented Covert's case last week at the Hall of Fame to a special Blue-Ribbon Panel that selected 10 of 20 senior finalists to be part of the expanded 20-member Class of 2020.
"Dan Pompei did such a phenomenal job," Covert said. "He's one of the best. When you have your case in the hands of a guy like Dan Pompei, you feel like you've got a chance. And I think when this centennial thing came up, it was my best chance in a long time and it just worked out."
https://www.chicagobears.com/news/hall-of-fame-call-leaves-covert-almost-speechless